Bullfrogs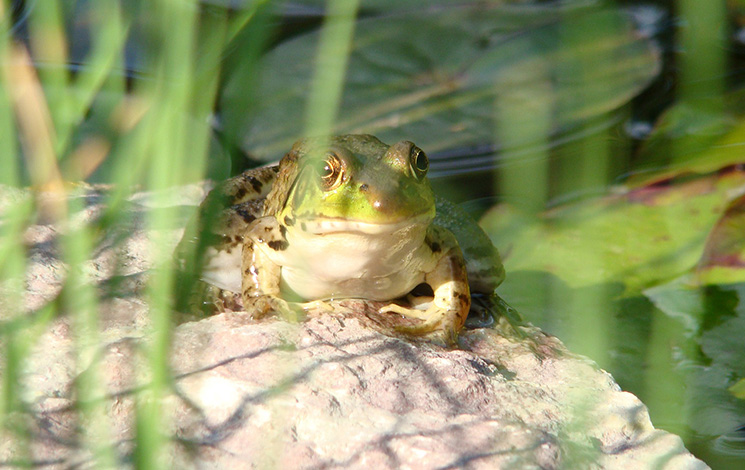 WHAT ARE BULLFROGS AND WHERE DID THEY COME FROM?
Bullfrogs are a non-native frog species that have been introduced to BC where they displace native frogs. They are established in BC and their range is spreading across the Lower Mainland and on Vancouver Island.
They are originally from the eastern part of North America and were introduced to BC by frog farmers that harvest them for frog legs. Since their introduction in the early twentieth century, they have spread both on their own and with help from humans. Bullfrogs are most active in the summer during the breeding season (June and July).
WHY BULLFROGS ARE A PROBLEM
Bullfrogs displace native frogs like the Red-legged Frog and Pacific Chorus Frog
they eat anything that will fit into their mouths including insects, birds, small mammals and including smaller frogs (even smaller bullfrogs)
the last 2 years of hot summers has lead to more abundant, active and noticeable populations across the Lower Mainland
their breeding success is high–each female can lay between 10,000–20,000 eggs
once established in a wetland of notable size, they are extremely difficult to eradicate
HOW TO IDENTIFY BULLFROGS
very large, robust frog, up to 20 cm long (not including their legs)
green or brown with a grey belly and large golden eyes
males have bright yellow throats during mating season while females have paler cream or white throats
very large ear drums
nocturnal
active season (mid-April–mid-October)
breeding calls are loud and intense
they rarely leave the water and are often seen floating underneath the surface of the water with only their eyes visible
bullfrog tadpoles are up to 15 cm long and very dark green (almost black). They spend up to two years in the tadpole stage (most other frog species only spend a few months as tadpoles)
WHAT YOU CAN DO ABOUT BULLFROGS
if you find new bullfrog colonies report them to the Provincial Wildlife database
do not transport bullfrogs from one pond to another
do not catch tadpoles to keep for pets. Bullfrogs are considered wildlife in BC, and it is illegal under the Wildlife Act to capture, transport, keep or sell them
find out more about bullfrogs and the BC Frogwatch Program