Invasive Plants
Invasive plants (sometimes also called noxious weeds) are non-native plants that have been introduced to British Columbia and lack environmental pressures (such as insect predators and plant pathogens) that help keep them in check. Invasive plants and animals are the second greatest threat to global biodiversity, after habitat destruction.
Invasive plants out-compete native vegetation and spread quickly if left untreated. They destroy food sources and take over important habitats for native plants and animals. Some are even hazardous to human health. Learn how West Vancouver is managing invasive species and how you can help stop the spread below.
Invasive Plant Species in West Vancouver
There are 19 species identified in the District's Invasive Plants Strategy to target for management and control in West Vancouver. 
Blackberry species
Butterfly bush
Cherry laurel (English laurel)
Clematis - old man's beard (traveller's joy)
English holly
English ivy
Giant hogweed
Gorse
Goutweed
Hawkweed (orange)
Knotweed species
Lamium (yellow archangel)
Periwinkle
Policeman's helmet (Himalayan balsam)
Purple loosestrife
Reed canarygrass
Scotch broom
Small flowered touch-me-not
Spurge laurel (Daphne laurel)
Find out more about the target list and best management practices for these plants:
High-priority / dangerous invasive plants
The top two invasive plant species are knotweed and giant hogweed. These two species have the potential to affect human health, damage infrastructure and degrade natural ecosystems. Learn how to identify them and what you should do in the event that you find one.
See the full list of targeted plants and the best practices for managing them in the Invasive Plants Strategy. For questions or more information, contact the Parks Department.
GIANT HOGWEED 
Giant hogweed is a large, toxic invasive plant typically found on riverbanks and roadways. The sap of hogweed can cause extreme skin dermatitis including rashes, blistering and scarring when exposed to UV light (sunlight and daylight). It can cause blindness if in contact with the eyes.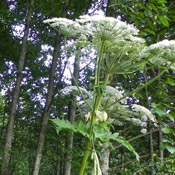 Identification: Within one growing season (approximately May–October), hogweed can reach up to 5 metres tall, when it produces a large umbrella-shaped white flower. Each plant can produce up to 100,000 seeds that can remain dormant in the soil for many years. Leaves are very large and  have coarse, jagged edges. The hollow stalks have purple blotches and stiff hairs. Hogweed is dormant in winter months, and in early spring leaves are low growing, so it is important to learn to identify it at all stages of growth.
Removal & disposal: For your safety, if found on your property, hogweed should be removed by a professional. If you choose to remove it yourself, be sure to first familiarize yourself with all risks and necessary safety precautions and follow best management practices for successful removal. To prevent seed spread, hogweed is best removed when it is young before it flowers.
Dispose in double-bagged thick garbage bags (at least 2 mm thick), secured tightly and placed in the garbage with your regular collection.
Never compost giant hogweed and do not place in your curbside yard trimmings. This plant is dangerous to touch—it can cause severe burns.
Do not place giant hogweed in backyard compost. Backyard composting will not break down the seeds enough to prevent re-growth, and may cause unnecessary harm to you or others.
First Aid: if exposed to giant hogweed, immediately remove affected area from daylight and rinse thoroughly with soap and water. Cover from daylight for at least 48 hours. Consult a physician if irritation occurs. If sap gets into the eyes, flush with copious amounts of water, wear sunglasses and consult a physician.
KNOTWEED
Knotweed is a fast-growing invasive plant with roots strong enough to damage infrastructure. It can grow just about anywhere, including roadsides, wooded areas, streambanks and waste sites. New plants can sprout from a small piece of root or stem. Preventing the transportation of knotweed is a priority for reducing its spread.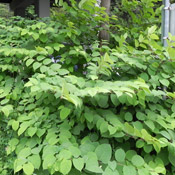 Identification: Knotweed is a large bamboo-like plant with long, hollow stems. Its leaves appear in a zig-zag pattern up the stem and are variable in size in shape, often ranging from a heart-shape to a flat edge at the base of the leaf. Knotweed can easily reach heights of one to five metres in a single season and grows showy plumes of small green-white flowers off the stem and leaf joints in late summer.
Removal & Disposal: Cutting and digging knotweed is ineffective and could cause the roots to grow more aggressively. The current best management practice for controlling knotweed is treatment by a trained professional in accordance with the West Vancouver Pesticide Use Control Bylaw. If you have knotweed on your property, contact a professional with a current BC Pesticide Applicator License.
If pesticide treatment is not possible and trimming live (green) knotweed is absolutely necessary on your property, please contact the Parks Department for direction.
If live (green) knotweed stems have been accidentally trimmed, take care to ensure that no plant fragment has been left on your or an adjacent property, and be sure to thoroughly clean all tools used to cut the plant. Any fragments left behind could spread the knotweed.
In the winter or following professional treatment, dead (brown) stems may be put out with your curbside yard trimmings. Take special care to ensure the stems are dead and fully browned. 
Do not place live (green) knotweed in backyard compost. Backyard composting will not break down the plant fibres or seeds.
There are lots of ways you can help stop the spread of invasive plants in West Vancouver.
Spread the word not the weed. Learn about invasive species and how to spot them and share that information with your friends, family and neighbours. Becoming informed is the best way to prevent the spread.
Don't dump garden waste. Dumping garden waste into parks and natural areas is illegal and can introduce species to sensitive areas or neighbouring properties. Dispose of green waste—including dead plants and clippings—in curbside compost or yard trimmings collection. Report illegal dumping to Bylaws at 604-925-7152.
Green Can, Yard Trimmings & Compost
Keep your plants under control and choose new ones wisely. If you have fast spreading invasives like ivy or lamium, keep them cut back and contained on your property. For safe and effective removal techniques, including ivy on trees, view the Invasive Plant Strategy.
Visit Grown Green Guide for selecting non-invasive alternatives for your next garden project or boulevard planting.
Manage and report high priority species. Inspect your property for plants like knotweed and giant hogweed and hire a professional to remove them. Report these species on public land to the Parks Department for management.
Become a volunteer: Make a difference in your community by getting hands-on in your local parks! To become a District volunteer, join an upcoming event to help protect and enhance local habitat or join a local stewardship group, visit: