Green Can, Yard Trimmings & Compost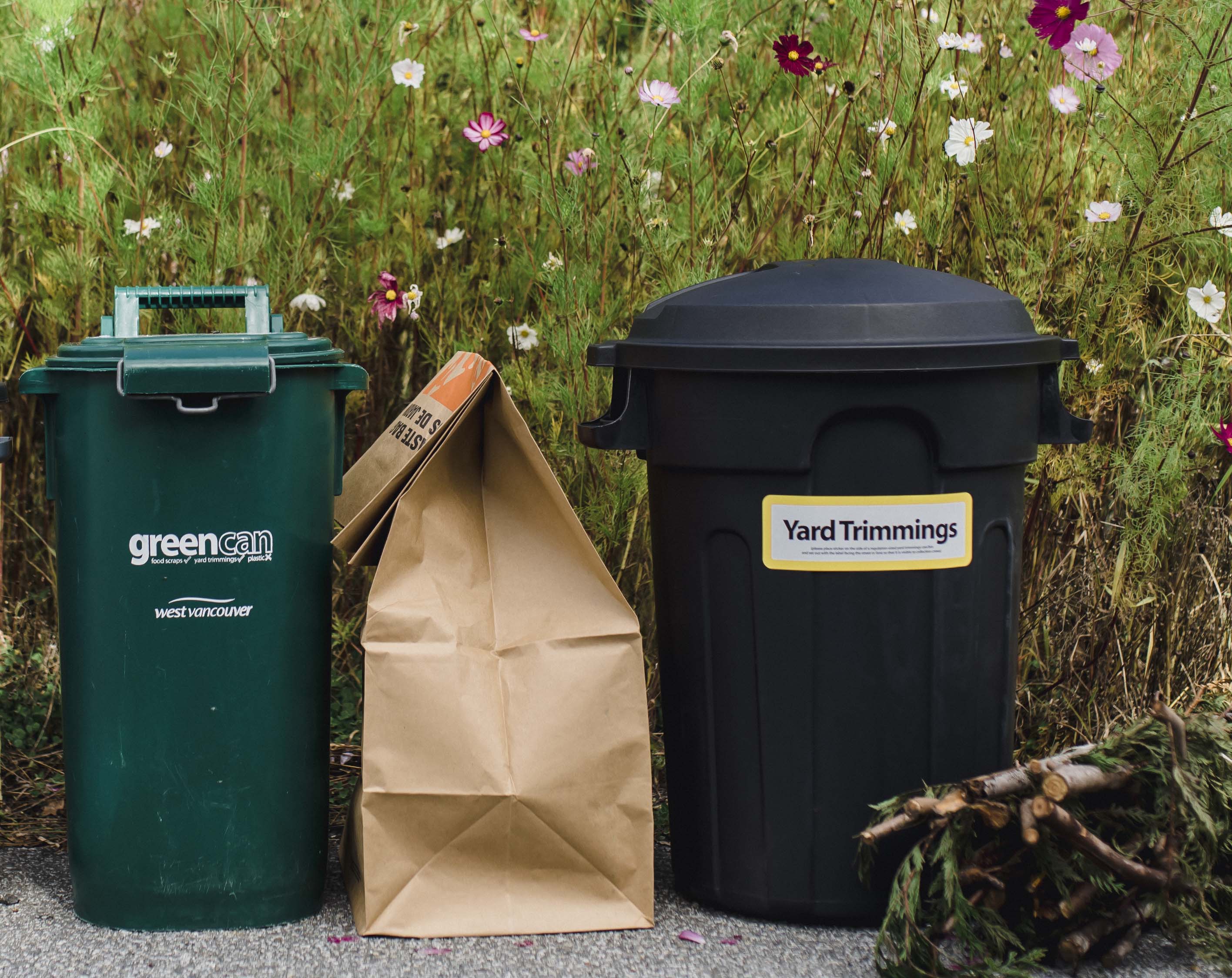 Green Can and Yard Trimmings are collected every week. Organics, which includes food scraps and yard trimmings, are banned from being disposed of as garbage and should be placed in your Green Can, yard trimmings container or backyard compost. 
Garbage, Green Can or recycling not collected?
Information on missed pick-ups
---
IMPORTANT COVID-19 UPDATE
To help prevent the spread of COVID-19 and protect our waste collection staff:
ensure that all personal hygiene products, used tissues, cleaning cloths, face masks, gloves, and similar items are disposed of in garbage bags.
securely tie garbage bags. Un-bagged or loose items will not be collected.
sort materials correctly. Crews are taking extra precautions and will not be sorting through garbage or recycling at the curb.
To learn more about the District's response to COVID-19, and for updates on District operations, visit westvancouver.ca/covid.
Green Can 

all food scraps, food-soiled paper (napkins, newspaper, and used paper towels) and wooden chopsticks and popsicle sticks
small amounts of yard trimmings
Visit metrovancouver.org/foodscraps to learn more.
Yard Trimmings
grass clippings, leaves, weeds, brush and branches
plants and flowers, living or dead/dried
plant, tree or hedge prunings less than three inches in diameter and no more than three feet long (tied with compostable twine)
Christmas trees cut to fit into container (no tinsel, decorations or stands)
Halloween pumpkins, broken into pieces
What stays out
plastic bags, even those labelled biodegradable or compostable, are not allowed
pet waste or animal droppings
rocks, dirt, or sod
plastic, glass, cans or paper
parchment paper
garbage
prunings larger than 7.5 centimetres in diameter or longer than one metre
painted or treated wood
garden hoses, flower pots or other non-organic materials
giant hogweed and knotweed cuttings. For more information about proper disposal of giant hogweed, knotweed and other invasive plants species, please visit Invasive Plants
six yard trimmings cans, bins or bundles, including Green Can(s), per pickup 
maximum weight per can, bag or bundle is 20 kilograms 
maximum bundle size is one metre long and 30 centimetres in diameter, maximum branch thickness is 7.5 centimetres
Green Can: Place food scraps and food-soiled paper in a 46-litre container (e.g. Orbis NPL 280A) clearly labelled as a Green Can.
Yard Trimmings: Place grass clippings, leaves, small trimmings, plants and flowers in a lidded 77-litre can with a Yard Trimmings decal. Kraft Paper bags with folded tops are also accepted.

Bundle twigs and branches with bio-degradable string or twine. No wire, nylon or plastic strapping allowed. Place bundles beside, not inside, cans.

All materials must be set out between 5 a.m. and 7:30 a.m. on the day of collection.
Co-existing with wildlife
Irresponsibly managed waste is the cause of 80 per cent of interactions between humans and bears on the North Shore and could be prevented. 
Collection rules, such as set-out times, are included in our bylaw to deter animals and reduce wildlife attractants—please follow them.

To avoid attracting animals:
store all materials inside the house, shed or secure enclosure until the morning of collection
wash your containers with a mild soap or vinegar and water solution to reduce odours
freeze plate scrapings and food scraps until collection day
wrap your food scraps in newspaper or paper bags to minimize odour and mess

Backyard composting is the most cost-effective and environmentally friendly way to recycle food scraps and yard trimmings. If you're composting at home, thank you and please carry on! You are diverting waste from the landfill and getting a rich fertilizer for your garden.
Common backyard weeds and invasive plants should not be added to your backyard compost but can be added to your curbside Yard Trimmings collection, except for giant hogweed and knotweed which require special attention and care.
For a full list of invasive species and how to manage them, please visit:
Need a backyard composter?
Backyard composters are available to all Metro Vancouver residents through the City Farmer backyard composter distribution program. Bins are $35 (cash only) and can be picked up from the compost demonstration garden in Vancouver. Call 604-736-2250 to reserve a composter and schedule a pick-up time.
More information