Inspections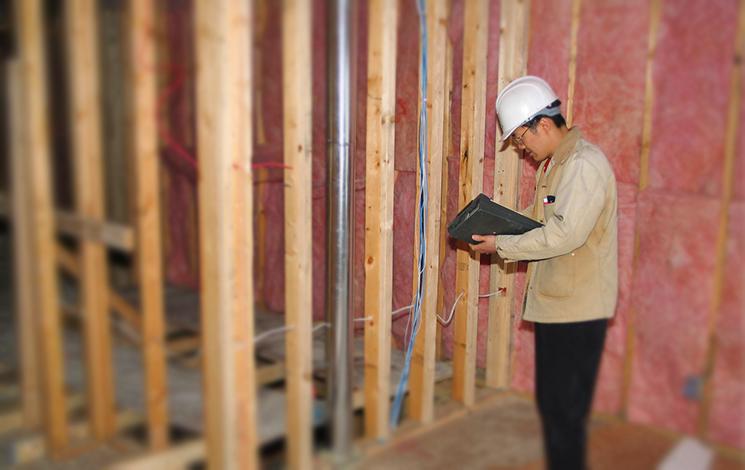 Once your permit has been issued and work completed, it must be inspected.
Schedule an inspection by:
604-925-7041 (24-hour message line)
How to book an inspection online
Please provide these details in your message:
type of inspection e.g. framing, water service, rough-in electrical, etc.
your permit number (BPXXXXX for Building, PLXXXXX for Plumbing, DRXXXXX for Drainage, SPXXXXX for Sprinkler, HWXXXXX for Hot Water Heating, ELXXXXX for Electrical)
address of the job site
the date of the inspection, if not for the same day.
Please note requests received by 8 a.m. Monday to Friday can be completed that day.
Inspections are required for the following:
Forms
An inspection of concrete form work before any concrete being placed on a site. A survey certificate from a BCLS must be on the site showing the location of the forms and include the elevations of any hubs or pour strips. (See WorksafeBC Policy regarding excavation construction site safety)
Slabs
An inspection of the poly and ground preparation under a slab before the placement of any concrete. (Damp-proofing inspections require a Drainage Permit.)
Sheathing
An inspection of the completed exterior sheathing of a building before the installation of any building paper.
Framing
An inspection of the building framework can occur once all framing is completed and only following approval of the rough-in wiring, plumbing, sprinklers and sprinkler insulation. The structural engineer's approval, sealed truss drawings, building envelope consultant's field review and mechanical ventilation checklist must be provided to the building inspector, on-site, at the time of the framing inspection. A survey by a BCLS may be requested at this time to confirm height and siting.
Insulation and Vapour Barrier
An inspection of the thermal insulation and vapour barrier before the installation of any wallboard, panelling or interior finishes.  Exterior building paper must be in place before installing the insulation.
Final Inspection
An inspection which is done once all construction is complete. The final plumbing, sprinkler, radiant heating, drainage and electrical work must be inspected before calling for the final building inspection. Documentation to be provided at the time of final building inspection includes Schedule C-B's from a structural engineer, geotechnical engineer and building envelope consultant, final survey by BCLS showing all buildings and structures, including retaining walls, and final mechanical ventilation checklist. 
Final building approval must be received before the building or any portion of the building which has been renovated is occupied.
Confirmation of Required Documentation for Non-Single-Family Dwellings
Inspections for Commercial Tenant Improvements
Drainage
An inspection of damp-proofing, drain-tile and rainwater leaders with all joints primed and glued and the pipe bedded in gravel with the top of the pipe showing (see Drainage Notes ). (See WorkSafeBC Policy re Excavation Construction Site Safety).  Note: Drainage Permit required for installation and inspection of drain tile, foundation damp-proofing, sanitary and storm sewers, and on-site water service lines.
Sewers
An inspection of the sewer pipe firmly bedded in the trench, test on, and before any backfill. (See WorkSafeBC Policy re Excavation Construction Site Safety)
Water Service
An inspection of the pipe in the trench, sand bedding or sleeve, and the water turned on.
DWV and Water Pipes
All DWV and water pipes must be tested and visible for inspection. This inspection must pass before framing inspection can be called.
Heating
All pipes tested with air and visible for inspection. Permanent waterproof labels to be in place on all loops showing: zone number, exact footage, the room served, and sub-area for multiple loops in one room. Home runs and headers will be inspected at random times and do not require a separate inspection. Heating pipe inspections must be passed before framing inspection can be called. Design and installation to be by the current TECA standards. See Hot Water Heating Inspection Requirements - Installation Guide
Sprinkler
All pipes to be tested to 200 PSI and inspected before covering any pipe. No piping permitted to touch electrical wires of any kind. Maintain clearances from pot lights. Frost protection inspection required by the plumbing inspector.  Sprinkler rough-in and frost protection must be passed by the plumbing inspector before calling for the framing inspection.
Bathtubs and showers
Bathtubs and showers to be properly supported, filled with water, and inspected before drywall.
Final Plumbing Inspection
An inspection after all plumbing fixtures and systems have been installed and are operating with hot and cold water.
Electrical
Electrical Rough-In
An inspection of all electrical wiring that will be covered, including service work and all low voltage. Note: any electrical wiring to be placed underground must first be inspected and approved.
Final Electrical Inspection
An inspection after all electrical panels, fixtures, receptacles and switches have been installed and connected.
Hazardous Material Survey and Clearance Report
All single family renovations or additions require a hazardous material survey and clearance report.
Inspections will not be performed until documentation is provided on-site.