Dogs
If you're a dog owner and follow these simple rules, you can help keep West Vancouver a great place for all of its inhabitants, canine and human alike.
the person legally responsible for a dog includes any person who owns, or has in their custody or control, any dog, and/or in whose name a licence has been issued or applied for
all dogs over the age of six months are required to be licensed and wear a West Vancouver dog tag
all dogs are required to be leashed and accompanied when off their property
no more than three dogs are allowed per home—and no more than six cats
Dog licence application form and information:
Dangerous & aggressive dogs
Any dog that has attacked or tends to attack, harass or bite other domestic animals or humans without provocation, or is any type of pit bull terrier or other dog specifically bred or trained for fighting, is an aggressive dog under Animal Control and Licensing Bylaw #4545. When at home, the dog must be securely confined by a structure which will keep young children from entering and the dog from exiting.  
Any dog that has bitten a person or pet must be muzzled when off the owner's property.
Excessive barking that disturbs neighbours may result in a fine.
Picking up your dog's waste is the right thing to do—and it's required by the bylaw.
Dog waste in parks
By taking a few simple steps, you can help keep our parks clean and safe.
Scoop up your dog's waste
Choose the best disposal option:
​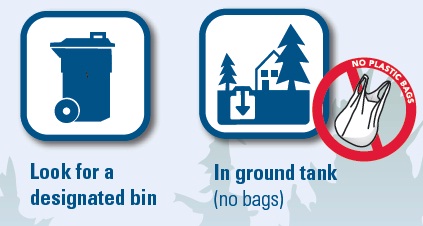 If no other options are available at your local park, place the waste in a sturdy bag and take them home. 
Dog Waste Only bins
New red bins for "Dog Waste Only" are located in some popular West Vancouver parks. Learn more:
Dog waste at home
Cleaning dog waste from your property will help keep people healthy and prevent pathogens from entering our waterways. Here are some sanitary disposal methods: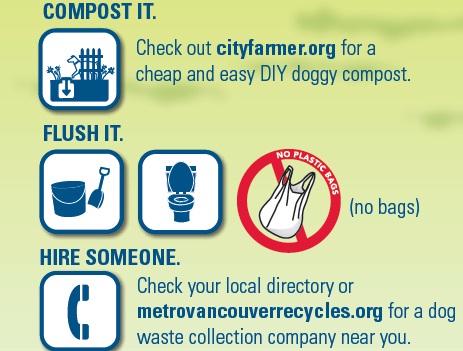 Dog waste can also be double-bagged and discarded with residential garbage. This is suitable for smaller amounts. 
Not all dogs bite, but all dogs can. Children under nine are most at risk, so please follow these useful tips to prevent bites and ensure you teach your children about dog safety.
Be careful when you and your children are playing with your canine. Most bites occur when children are playing with dogs.
Report all bites, incidents of aggressive behaviour and stray dogs to Bylaw Services at 604-925-7152.
Dogs can bite when defending toys, food, yards, porches, vehicles, puppies and their guardians. Be aware of defensive dogs.
Watch out for fearful dogs, they can bite to protect themselves.
Unsocialized backyard dogs can be a high risk to bite. Do not let children stick hands through fences or approach tethered dogs in yards.
Approach slowly, walking in an arc. Walking in a straight line can be viewed as a threat.
Ask the person with the dog if the dog is safe to pet.
Stand at a slight angle to the dog, allow the dog to sniff your hand.
If the dog is friendly first pet the dog under the chin.
Never reach over a dogs head to pet.
Never let children hug dogs, some like the affection but most do not.
Sick, injured and elderly dogs may be uncomfortable or in pain and less tolerant of people. Be careful.
Never approach stray dogs and make sure you report them.
Infractions that can be subject to fines:
Failure to remove animal droppings $150
Dog not licensed $150
Dog without tag $50
Animal running at large $150
Dog in prohibited area $150
Dog not under control in off-leash area $100 
Dangerous animal at large $500
Dangerous animal not muzzled $500
Animal aggressively harassing or pursuing a person $500
Animal injuring a person or pet $500
Barking dog $100
Human keeping more than three dogs $500
Human walking more than three dogs $100 
Commercial walking of more than six dogs $200 
Animal left inside vehicle $150 
Animal untethered outside the passenger compartment of a vehicle $150
Your Pets During Emergencies
Learn about what to do with your pets in an emergency situation: