Sanitary Sewer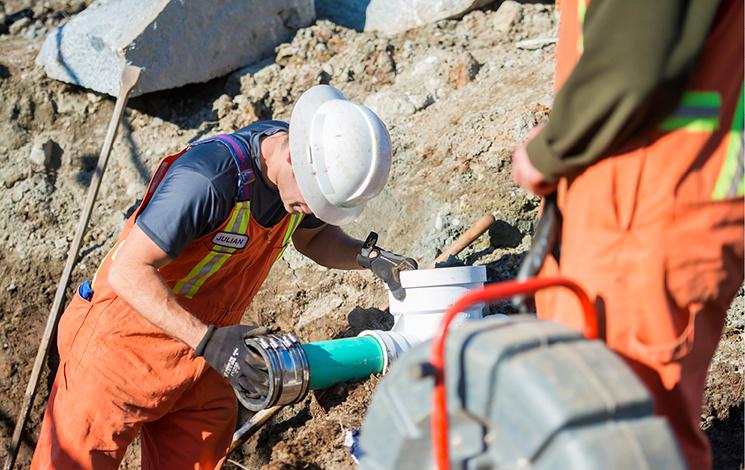 Everything you put down the drain or toilet has to go somewhere.
Whether you're flushing the toilet, washing clothes, having a shower, or washing the dishes, we send a significant amount of water down the drains in our households each day. The water and other materials that go down the pipes are processed and then released back into the environment.
Find out more about what happens to your wastewater.
Sinks and toilets are not intended to be disposal systems for garbage or chemicals. 
Do not flush these items down the toilet or sink
Fats, grease and food
Baby wipes and other disposable cleaning cloths
Disposable mop cloths and mop pads
Condoms
Pads, tampons (and applicators)
Dental floss
Hair
Plastics
Paper
Oils
Chemicals
Paint
Pharmaceuticals
Pesticides or herbicides
For better ways to dispose of these items, visit the West Vancouver garbage page.
Sanitation System Infrastructure 
The district's sanitary sewer system is comprised of hundreds of kilometres of sanitary mains and thousands of service connections. Here are some of the numbers:
sanitary sewer mains: 340 km
sanitary service connections: 12,727
sanitary manholes: 4,277
sewer lift stations: 57
wastewater treatment plants: 1 (Citrus Wynd Sewer Treatment Plant)
grinder pumps: 208
Sewage Treatment
In response to new federal and provincial wastewater regulations, Metro Vancouver is moving to replace the existing primary wastewater treatment plant with the Lions Gate Secondary Wastewater Treatment Plant by 2020.
IMPORTANT TO KNOW
Flushing items that aren't supposed to be flushed can cause major clogs, breaks or overflows further down the line or at the pump stations and waste water treatment plant.
The municipality must make expensive repairs that could have been avoided if these items were disposed of properly.
The only acceptable thing to flush down your toilet is a small amount of toilet paper.
Keeping it Flowing
Learn more about our sanitary sewer assets and how they're managed.