Cycling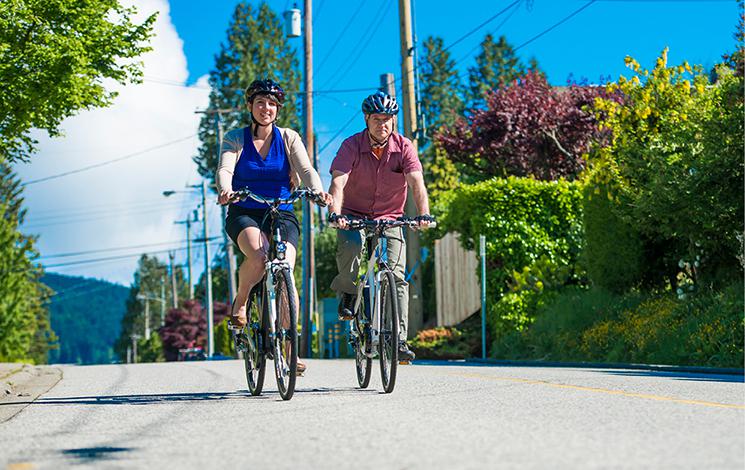 Cycling is a great way to get around the community. It burns calories, adds muscle, and it leaves zero carbon footprint. It's important to cycle safely, for you and for everyone you share the roads and trails with.
New bikes racks for west vancouver
The District, in coordination with the Ambleside and Dundarave Business Improvement Association, has been working on a plan for new bike racks in the commercial areas of Ambleside and Dundarave. Racks are planned to be installed along Spirit Trail from Ambleside Park to 18th Street, as well as at District facilities.
The District will be installing two types of racks: a standard U-shaped rack for the majority of locations, along with the two winning designs from the 2019 bike rack design contest.
Phase 1 installations in locations with existing concrete bases have now been completed.
Bike Rack Location Map - Phase 1
For Phase 2, concrete bases will first need to be installed, which will take additional time to complete. We are preparing to install Phase 2 racks in August and September 2020.
Bike Rack Location Map - Phase 2
---
Safety tips
Before your ride
get a tune-up every spring before your first ride to ensure that your brakes, tires, drive train and other components are road-ready
equip your bicycle with a bell
get reflective clothing and front and rear lights to make you more visible to other road users
before every ride, check to make sure you inflate your tires, check that your lights are working and that all of your components are road-ready
During your ride
always wear your helmet, reflective clothing and turn your lights on (night-time and day-time too)

yield to pedestrians and be extra careful at intersections and school zones
obey all traffic lights and stop signs
try to stay on bicycle paths and roads with designated bike lanes
when riding on multi-use paths, ride slowly and watch for pedestrians, dogs and other path users
be careful around parked cars and watch for opening doors
in wet weather, take precautions and allow for extra stopping time
don't wear headphones while riding
stay hydrated by drinking plenty of water or sports drink before, during and after your ride
After your ride
check your bike to make sure nothing has come loose or requires attention
stow your bike carefully and ensure none of its components get damaged